Leicester water main repair could take days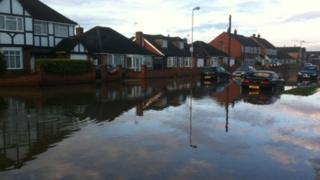 Repairs following a burst water main which affected thousands of homes in Leicester could take days to complete.
Water from the leak in Lanesborough Road, Belgrave, damaged about 50 properties and closed roads on Monday.
A further 5,000 houses in the area lost their water supply for several hours and some homes had to have electricity disconnected.
Severn Trent Water engineers estimated repairs could take until Friday.
The 27in (69 cm) pipe burst at about 5:00 GMT on Monday, pouring water out on to the road and surrounding streets.
Melton Road, a main route into the city, was shut during rush hour and Rushey Mead primary and secondary schools were closed for the day.
Jean Platt and her husband Roy have had to move out of their Lanesborough Road home.
Mrs Platt said: "We've got no heat or lights. Where the water came up under the floorboards, sockets were damaged so we have got to have it reassessed."
Carolyn Robson, executive headteacher at Rushey Mead School, said she had to shut the school.
She added: "There was almost no access from the road. It was like one great big river running down.
"I managed to get my car through a bit of the river with police escort in and then found we had no water supply either."
Severn Trent Water said its insurer had spoken to residents and estimated the cost of repairs to be at least £100,000.