Leicestershire Police to use Rutland's successful metal theft campaign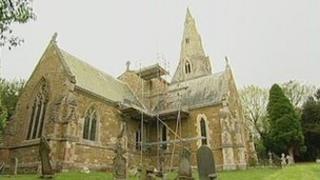 A successful campaign to tackle metal theft from Rutland's churches is being introduced in parts of Leicestershire.
Church Watch began in Rutland a year ago and since then no metals thefts have been reported from the county's churches.
The scheme encourages people to report suspicious behaviour and involves police visits to churches.
Leicestershire Police will now introduce the scheme in the Blaby and Melton Mowbray areas.
'Very upsetting'
The Reverend Susan Leighton from St James' Church in Little Dalby, near Melton Mowbray, welcomed the chance to use the community messaging system which has worked successfully in Rutand.
She said it was "very upsetting and distressing" when £50,000 worth of lead was stolen from the roof of St James' in August 2011.
"The scheme will help us prevent metal theft and protect other buildings as well - it is very damaging for any building to have metal stolen."
Det Insp Chris Barratt said scrap metal legislation which came into effect recently was helping police track down offenders.
"We've been working with scrap metal dealers and asking them to work on getting identification of people who sell them metal," he said.