Leicester streets flooded by burst water main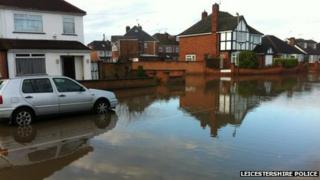 The moment a water main burst flooding several streets in Leicester felt like "a bomb", one resident said.
The pipe broke at about 05:00 GMT in Lanesborough Road, Belgrave, pouring water out on to the street and closing Melton Road.
Emergency crews and Severn Trent Water have been working to prevent damage to property and closed several streets.
Rushey Mead primary and secondary schools were closed for the day but are expected to open on Tuesday.
The burst pipe closed one of the main routes into the city, between Watermead Way and Checketts Road during rush hour.
The city council provided sandbags to help protect people's homes as some streets had water as deep as 2ft (60cm) in places, a spokeswoman for the city council said.
The water supply was cut off to about 5,000 homes following the pipe burst, but everyone was reconnected to the mains supply by 11:00 GMT, Severn Trent Water said.
Resident Subash Vanmali said: "About 4.30 GMT we heard an explosion. The next thing we see is all the water going up. It felt like a bomb, it was very loud."
Mitesh Chouhan, who lives in Melton Road, said: "We've got no power. They told us to turn it off and it is freezing. It's not exactly convenient, especially if you are old."
Paul Wallis, regional service delivery manager for Severn Trent Water, said: "We have quite an extensive clean-up operation. The flood left a lot of silt and mud on verges and into people's gardens."