FA race abuse charges against boys' football club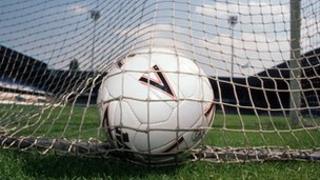 A Leicestershire youth football club has been charged by the FA after some fans allegedly made monkey noises at rival players.
A small group of Blaby and Whetstone Boys Club supporters are accused of racially abusing visiting players and fans from Leicester Nirvana FC.
One of the club's players has been charged with making racist comments.
Two Nirvana players are accused of improper conduct in relation to comments made later on Facebook.
The match referee has been charged with two counts of improper conduct for allegedly failing to report disciplinary matters in the match and at a previous fixture.
Pitch invasion
The match between the under-15s teams took place in October at Warwick Road, Whetstone.
The Leicestershire and Rutland County FA said home supporters used "offensive, insulting or threatening language aggravated by race" towards players and supporters of the opposition.
The team also faces further charges for failing to ensure spectators "conducted themselves in an orderly fashion" after they invaded the pitch at the end of the game.
The Blaby player was charged with two counts of improper conduct for alleged racist comments made after the final whistle and on Twitter.
Keith Murdoch, chief executive of Leicestershire and Rutland County FA, said it was a small number of people within the crowd who had been involved in the incident.
He said: "This is a situation we don't want to hear about at a football match.
"It shouldn't happen and that is why it is appropriate we take the right amount of time to investigate and take the appropriate action."
Police investigation
Each team has until 13 December to respond to the FA's charges.
Blaby and Whetstone Boys Club said it would not comment until after a committee meeting.
Kirk Masters, chairman of Leicester Nirvana, said his team was made up of mainly black and Asian youngsters.
He said: "The players were shocked, angry and upset and some of them reacted on their experience of that day on social networking sites.
"I hope that working together points can be learnt from this and it is made clear to anybody connected to football that this kind of behaviour will not be tolerated."
Leicestershire Police said an investigation was ongoing and no arrests had been made.