Thales to close Leicester base: 200 posts to go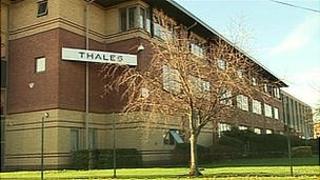 More than 200 jobs have been put at risk after a defence firm announced it was closing its Leicester site.
Thales UK builds flight simulators and military communications equipment.
A spokesman said a drop in orders meant it would close the Scudamore Road site by mid-2013 and move operations to Crawley in West Sussex.
The company said it would look to relocate a number of the 230 staff to minimise permanent job losses but this process had yet to be finalised.
The spokesman said: "The current business environment is unlike anything we have experienced in recent years and prospects and programmes in our defence sector - both domestic and export - are experiencing significant reductions in volumes and workload."
A consultation with unions had begun, he added.
'Huge impact'
Tom Sawyer, regional officer for union Unite said: "This firm was the last of its kind in Leicester, with people with that particular skill set.
"A closure is something you can never recover from. Once a site is closed, all those jobs have disappeared.
"It will have a huge impact on the individuals and a huge impact on the area."
Mr Walker added Unite would be working closely with Thales to help people find alternative work.
Leicester Mayor Peter Soulsby said: "We will of course work with the Leicester & Leicestershire Enterprise Partnership to offer any support we can to assist in the coming months.
"The closure of Thales underlines the importance of the £60 million Economic Action Plan that we launched in the city last week. Together with the LLEP we will be supporting the creation of new jobs and training provision and also helping businesses to set up and grow in the area."
In the first half of the year the Thales Group as a whole made profits of 138m euros, but director Luc Vigneron, said: "The increase in revenues in our civil activities mitigates the impact of strong budget pressures in defence and our results continue to improve."