David Parsons rejects demand for further payments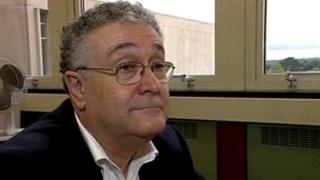 The former leader of Leicestershire County Council has vowed to fight demands he pays back more than £4,000, which officials claim is outstanding.
David Parsons resigned from his post and was expelled from the Conservative group after an investigation over his expenses.
He has returned some travel payments but disputes the extra £4,089.04 which the council was demanding by Wednesday.
The council is now considering its position.
A report earlier this year found Mr Parsons had breached the code of conduct for not repaying money used to fund trips to Europe.
He has since paid back thousands of pounds in expenses highlighted in the report but the council claims auditors have since uncovered a further outstanding amount.
The authority says it paid for Mr Parsons' transport to the airport while he was also in receipt of a travel allowance from the European Union, meaning he was receiving the money twice.
The council issued an invoice in October demanding the money, or a payment plan, by 17:00 GMT on Wednesday, which Mr Parsons is now contesting.
He said: "'The invoice is completely disputed. A letter has today (Wednesday) been served on the county council mounting a robust defence."
A spokesman for the council said: "A letter from solicitors acting for Mr Parsons has been received and we will be responding in due course."