Watermead Country Park's geese food crackdown hailed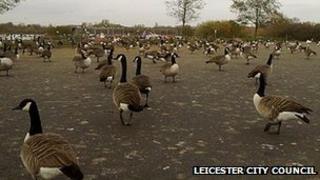 A campaign to cut mess and disruption caused by visitors feeding geese at a Leicester park has been hailed a success.
The city council said Watermead Country Park's Canada goose population had surged on a diet of unhealthy bread.
This caused problems with droppings and other wildlife being forced out.
New patrols and a "food swap" programme have led to a 60% drop in bird numbers and nearly a tonne and a half of unsuitable food being collected.
The campaign has also just won a Keep Britain Tidy award for innovation.
Penalty notices
Officials said the goose numbers were so high they restricted access, and the large amounts of droppings posed a real risk of slipping or infection.
New signs were put up and information leaflets were handed to visitors, who were offered the chance to swap any bread, or other unsuitable food, for healthy pellet food.
Park officers said they had collected over 1,400kg of such food from more than 2,000 people.
Four fixed penalty notices were also issued for leaving excessive amounts of food in the car park.
Piara Singh Clair, assistant city mayor for heritage, leisure and sport, said: "The geese on Watermead Park were becoming such a problem, particularly in the car park, that some people were put off visiting.
"I'm really pleased that Keep Britain Tidy recognise the innovative approach taken. It is a credit to staff involved and I'm delighted that we have won this award."