Ambulance service heart attack delay prompts criticism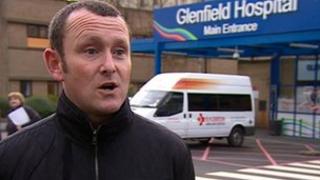 A man who was told his seriously ill mother was not an emergency has criticised the ambulance service.
Leon Hill rang 999 when Margaret, 60, suffered a heart attack at a house in New Parks, Leicester on 7 November, but the case was passed to a doctor.
The doctor then called a paramedic who had to use a defibrillator on Mrs Hill. She is now in an induced coma.
Mr Hill, 33, said he believed vital time was lost. East Midlands Ambulance Service has apologised.
Mr Hill said the call handler did not act properly.
Drug treatment
He said: "The operator failed to pick up that three of the symptoms I gave were high-risk heart attack symptoms.
"I actually said myself on two occasions that I thought my mum was having a heart attack.
"She has never had to call for an emergency service before and the one time she needs it, it wasn't there for her."
Mr Hill estimated the time between the first call and the paramedic arriving was about 20 minutes.
Phil Milligan, chief executive of East Midlands Ambulance Service, said: "I am sorry for the distress the patient and her family experienced when the initial 999 call was incorrectly categorised.
"When NHS Direct referred the call to us, we sent a highly skilled paramedic straight away and he arrived on scene within seven minutes.
"He did his best to save Ms Hill when she went into cardiac arrest and successfully used the defibrillator at the beginning of treatment."
Mrs Hill, who was also given CPR and drug treatment, has since had an operation to unblock an artery.