Leicestershire floods: Homeowners face clean-up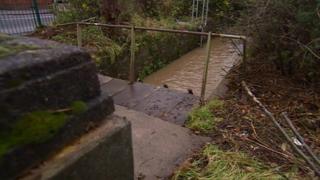 Householders face a miserable clean-up following floods in Leicestershire, with homes swamped in sewage.
The Soar burst its banks at Barrow upon Soar, flooding Proctor's Caravan Park and forcing narrow-boat owners to leave home.
Houses in Loughborough were inundated with sewage with some residents facing the prospect of Christmas in a hotel.
But Melton Mowbray was counting its blessings after defences saved the town from flooding.
The Environment Agency has just one flood warning in place in the county on the Wreake, while alerts remain in place on the Soar.
Roads around the county remain closed with police and the fire service urging drivers to take care.
Dovelands Primary School, in Hinckley Road, Leicester, is closed for a third day on Wednesday because of flooding.
The multimillion-pound defence system in Melton, built in 2003, saved the town from a repeat of the devastating floods in 1998.
Matthew O'Callaghan, a member of the town's flood task force, said without the defence, the town's economy would have suffered.
"A number of employers threatened to leave the town and of course the town centre would have been blighted for future development," he said.
Furniture condemned
Residents on the Kingfisher estate in Loughborough face an uncertain future after their homes were deluged with sewage.
Father of three Tim King said the insurers had told him the house was not fit to live in until it is cleaned.
"The water just rushed through here really quickly and caused huge devastation.
"They told us they almost condemned it because it is black water, some sewage waters came in.
"They ripped up the floor, condemned the furniture and told us we've got to move out.
"So we've been out in a hotel for the last two nights and we've got to talk to the insurance companies to find out what's happening over Christmas.
"They are talking about rehousing us over Christmas because they are saying we can't live in the house as it is with three young children."
'Complete devastation'
He added: "Initially I think the kids thought it was a big adventure but this morning when they realised Christmas wasn't going to be at home they got very tearful.
"We normally put up the decorations this weekend, so that's not going to happen. It's a complete devastation in our lives."
Tim Smith lives on a houseboat which was moored in Barrow when the river broke its banks.
He said: "I watched the level all night and the Environment Agency website. You couldn't really tell what was going off. I just dreaded waking up. I've not slept."
Dawn Hickinbottom, manager of the village pub The Boat House, was horrified to see the flood water lapping at the building's doors.
She said: "It is just horrendous. You see floods on the television but when you are in this environment it is very, very frightening and scary."