Plan outlined to boost Leicester economy with £60m investment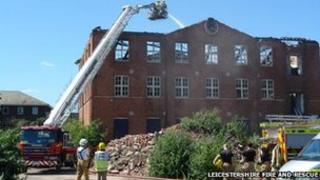 Plans to encourage £60m of investment in Leicester have been announced by the city's mayor Sir Peter Soulsby.
The scheme includes plans to improve areas of the city centre, extend shopping hours, and potentially sell off council land for housing.
Four zones - each focusing on a specific business sector - will also be created to attract firms and investors.
But Tory councillor Ross Grant said it had taken too long to come up with the strategy, some of which was "not new".
The four investment zones will be "innovation and technology", based around the National Space Centre; "food and drink manufacturing", in the north east of the city; "creative industry" in the Cultural Quarter; and the city centre itself.
The council also aims to create 100 apprenticeships, 160 graduate internships and 400 six-month jobs over the next three years.
The Friars Mill building on Bath Lane, which was gutted in a blaze in July, has now been bought by the council for £500,000 and will be a key feature in the re-development.
Sir Peter said: "This is an ambitious strategy that builds on Leicester's strengths and the substantial investment of the past 15 years.
"Our new plan focuses on creating the jobs and the environment we need to unlock the city's tremendous potential for growth."
But Mr Grant questioned why the plans were not drawn up a year ago, and said he feared the city was now lagging behind places like Nottingham and Derby.
"One of the big arguments for the mayoral system was to stream-line decision making. But it's still taken 18 months to come up with an economic vision," he said.
"Some of what has been announced is not new, it is a continuation of work done before the new mayor. And it is also more about intentions rather than actual delivery.
"This sets out what they would like to do, I can't believe it has taken 18 months to come up with this."
The project - called the Leicester Economic Action Plan - was developed by the council with the Leicester and Leicestershire Enterprise Partnership (LLEP) with the help of Leicestershire Business Council.