Richard III dig: Results expected in January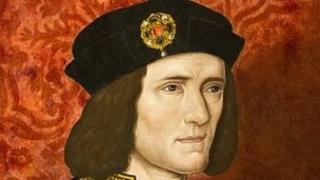 Archaeologists who discovered a skeleton thought to be Richard III have said it could be January before tests confirm whether it is the former king.
The remains were found underneath a Leicester car park on the former site of the Greyfriars church in September.
Prof Lynn Foxhall, from the University of Leicester, said the team has got to be sure of its facts before it confirmed whether it was the monarch.
The results of DNA tests on the bones had been expected in mid-December.
Prof Foxhall said: "We always said once we got the DNA going it would take a minimum of 12 weeks, I think that is still the case.
"There are quite a lot of different experts involved, mostly around the University of Leicester, but outside experts as well, and there's loads of things to check up."
She said each bone can take eight hours to scan in order to give a detailed X-ray.
"It's not like CSI [Crime Scene Investigation], it just takes a long time," she said.
"[But] the evidence is looking really good."
DNA has been extracted from the bones and is in the process of being tested against descendants of Richard's family.
The English king died at the battle of Bosworth in 1485.
A university spokesperson said evidence that the remains belonged to Richard III included signs of a peri-mortem (near-death) trauma to the skull and a barbed iron arrow head in the area of the spine.
Richard is recorded by some sources as having been pulled from his horse and killed with a blow to the head.
The skeleton also showed a curvature of the spine which would have given the male the appearance of having one shoulder higher than the other, as portrayed by Shakespeare.