Ex-Leicestershire police officer Toby Day killed his family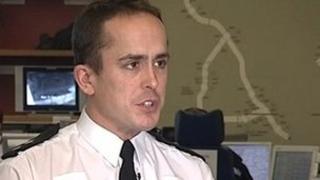 An ex-police inspector killed his wife, daughter and himself days after being sacked by the Leicestershire force, an inquest has ruled.
Toby Day, 37, stabbed Samantha, 38, and six-year-old Genevieve at their home in Melton Mowbray, in December 2011.
The inquest in Loughborough heard Mr Day had been sacked for misconduct.
Coroner Trevor Kirkham recorded a verdict of suicide on Mr Day and that his wife and daughter were unlawfully killed, at their Robin Crescent home.
Mr Day's other children, a boy and a girl, were also hurt in the attack. They attended the hearing along with several other members of the family.
Wife strangled
The court heard Mr Day's mood turned hostile when told by a senior officer over the phone that the media were investigating his dismissal for misusing police computers.
Giving evidence Det Insp Matthew Healy described how the girl, who suffered a knife wound to the neck, raised the alarm by running to a nearby school.
Police found her brother on the living room floor and the three others in a bedroom.
A pathologist told the inquest that Mrs Day died from stab wounds and strangulation, Genevieve also died from knife injuries with strangulation "being a factor".
Mr Day died from self-inflicted stab wounds to the chest.
Mr Kirkham said: "It is almost unimaginable to think of the thoughts of the family who seek to come to terms with the events.
"It is a case that causes particular anguish because of the circumstances.
"No-one here and in the much wider community can fail to have been touched by these tragic incidents."
The month after the attacks, hundreds attended a memorial service at All Saints Church in Oakham, Rutland, to pay their respects.
Mrs Day's family has set up a charity foundation in her name to help families with days out and trips away.
The case was referred to the Independent Police Complaints Commission but it later said no formal investigation would be carried out.
Leicestershire Police said the events were "truly tragic" and its thoughts were with the surviving children and the rest of the family.