Leicestershire PCC election: Sir Clive Loader wins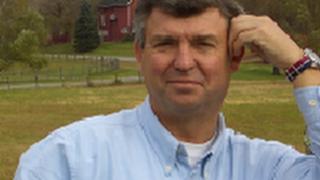 Conservative Sir Clive Loader has been chosen as Leicestershire's first police and crime commissioner (PCC).
He beat Labour's Sarah Russell after second preference votes were counted as neither candidate managed to get 50% of votes.
Independent candidate Suleman Nagdi was eliminated after the first round.
Sir Clive, a retired RAF serviceman who spent 30 years with the forces, will be responsible for setting priorities for the force and overseeing its budget.
Just 16% of the electorate voted.
People power
Sir Clive received a total of 64,661 votes, with Ms Russell getting 51,835.
In his victory speech, Sir Clive said he expected to spend the next two months working hard to prepare a policing plan for the county.
"In the first two months we have to produce a costed police and crime plan ... and I will make sure it reflects the concerns and aspirations and views of the people.
"I will make sure it is fit for purpose by sharing it with people so we come out with something that people will expect."
He also promised to work with Leicestershire's chief constable "to foster a new culture of police professionalism and effectiveness that all residents will trust and criminals will fear and in which all police officers and staff will take great pride".
Sir Clive was a frontline pilot in the RAF where he participated in air operations over the Falklands, Iraq and the Balkans before becoming air chief marshal and receiving a knighthood in 2006.