Leicester's Curve Theatre: Attendance reaches all-time high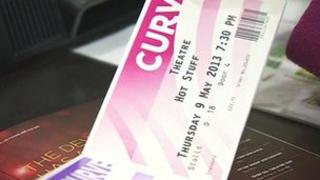 Ticket sales and revenue at Leicester's Curve Theatre have reached an all-time high, the venue's chief executive Fiona Allan has said.
More than 180,000 people attended paid performances at the £61m theatre in 2011-12, an increase of 8% over the previous year.
Revenue from ticket sales reached £2.8m in the same period.
The city council is currently reviewing three art venues, including the Curve, to see if they provide value for money.
42nd Street
Ms Allan said: "We have seen a bumper year... it is has taken a couple of years to get the balance of the programme right and now we are seeing the audience respond to that."
She said an additional 16,000 people attended workshops, talks or master-classes at the theatre.
Productions at the theatre in the past year included DESH, 42nd Street, Gypsy and a community production of Oliver!.
Leicester Mayor Sir Peter Soulsby said earlier this year that the theatre was "one of the most expensive and badly handled projects in this city's history".
The original plans for the Curve in 2000 estimated a construction cost of £26m, but that more than doubled to £61m before it was opened in 2008.
The theatre has two auditoriums, one seating 750 people, the other 350, which can be combined into one theatre space.