Leicester shops host Ashok Mistry photo exhibition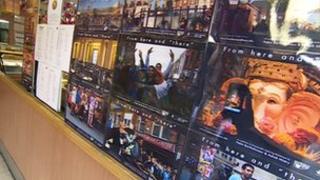 Shop windows in a busy part of Leicester city centre are being used as display spaces for a new photo exhibition.
Artist Ashok Mistry and photojournalist Pablo Bartholomew convinced businesses in Belgrave, Highfields and Spinney Hill to host their images.
The work, called From Here and "There", explores the concept of Britishness amongst the city's diverse communities.
Mistry said he wanted the photos to be enjoyed by people in the city.
Shopkeepers 'reluctant'
The exhibition is aimed at reflecting ideas of Britishness during the year of the London 2012 Olympics and the 40th anniversary of the mass exodus of Uganda's Asian population, many of whom settled in Leicester.
Shops, businesses and community centres all agreed to display the work in their front windows.
Mistry said: "We wanted to take art to the people because the whole exhibition is about them.
"Some shopkeepers were initially reluctant but when we started to show them the photos, they were quite taken in."
The exhibition runs until mid-December and it is hoped more businesses will get involved.