Catherine Junior School pupils to go to other schools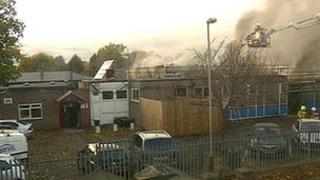 About 400 children from a fire damaged school in Leicester are set to continue their education at four different schools from Monday.
Pupils were evacuated from Catherine Junior School, in Brandon Street, due to the blaze on 30 October.
Damage to buildings and the presence of asbestos has meant its long-term future is unclear.
A temporary school, to be built on fields at Abbey Community Primary School, will open in early 2013.
From 12 November, 104 pupils in year six will be accommodated at Rushey Mead Secondary School, with 98 pupils in year five being accommodated at Soar Valley Secondary School.
A total of 100 pupils in year four will be accommodated at Rushey Mead Primary School and 94 pupils in year three will go to Taylor Road Primary School.
More than 40 firefighters tackled the flames at the height of the fire. The cause is not yet known.