Silver Arcade in Leicester opening delayed until Easter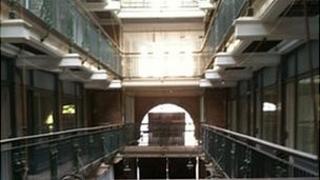 The opening of a Victorian shopping arcade in Leicester after a £3m refit has been delayed.
Developers had hoped to finish the Silver Arcade, which links Silver Street and Cank Street, in time for Christmas.
Now they have said finishing work and selecting tenants means this has been put back until Easter.
Believed to be the only surviving four-storey arcade of its type in Britain, it closed in 2001.
Caroline Simpson-Watkinson, from Harborough London Ltd, the agents behind the scheme, described the arcade as "the jewel in the crown" of Leicester's shops.
She said: "We wanted it to be fully up and running for Christmas but the shopfitters still have to work on the shops.
"So while elements of the building, say a whole floor, may be ready now, nobody wants works going on while that is happening and things may get damaged.
"And the fit-outs themselves may take six to eight weeks."