Catherine Junior School pupils housed in temporary buildings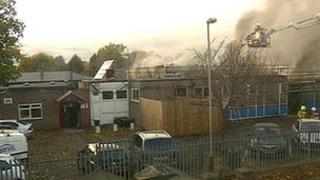 A temporary school is to be built in Leicester to house pupils after the former building was damaged in a fire.
About 400 pupils were evacuated from Catherine Junior School, in Brandon Street, due to the blaze on 30 October.
Damage to buildings and the presence of asbestos mean its long-term future is still unclear.
Students will be sent to nearby schools for the rest of term before the new school, on fields at Abbey Community Primary School, opens in early 2013.
Leicester Assistant City Mayor for children, young people and schools, Vi Dempster, said: "The fire itself has obviously caused significant disruption, but we've made these alternative schooling arrangements with the co-operation of all the schools involved.
"We are still looking at travel needs and any practical arrangements required to assist families involved."
From 12 November, 104 pupils in year six will be accommodated at Rushey Mead Secondary School, with 98 pupils in year five being accommodated at Soar Valley Secondary School.
A total of 100 pupils in year four will be accommodated at Rushey Mead Primary School and 94 pupils in year three will go to Taylor Road Primary School.