Richard III dig: Female remains could be Greyfriars benefactor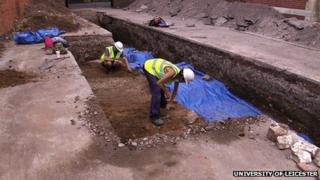 Archaeologists who found female remains in the search for Richard III under a Leicester car park have identified a woman they could belong to.
A skeleton thought to be Richard III is being subjected to laboratory tests to confirm if it is the former monarch.
Research of burials at the site has identified only one woman, Ellen Luenor.
She is thought to have been one of a number of founders and benefactors of the friary of Greyfriars in Leicester.
'High status'
The car park is on the former site of the Greyfriars church, which was within the friary.
Mathew Morris, University of Leicester archaeological services' site director, said: "It wasn't unexpected finding the remains of a woman buried in the friary.
"We know of at least one woman connected with the friary, Ellen Luenor, a possible benefactor and founder with her husband, Gilbert.
"However the friary would have administered to the poor, sick and homeless as well, and without knowing where Ellen Luenor had been originally buried we are unlikely to ever know who the remains are of, or why she was buried there."
The team has not yet examined the female remains.
Richard Buckley, lead archaeologist of the Greyfriars project, said the location of the remains supported the theory they were Ellen Luenor's.
He said they were found in what would have been a "high status" area of the church.
"They were found in the east end of the church," he said.
"Because they came from that part of the building it is possible she could have been one of the founders.
"You wouldn't normally expect a women to be in there otherwise, probably."
The female remains were found in September at about the same time as the male remains.
But while the male remains were an articulated skeleton, the female bones had been disturbed and subsequently reburied.
Mr Buckley said the skeleton may have been dug up by a gardener when the site was the garden of a mansion house in the 17th Century.
The remains would then have been reburied at a higher level than the church floor.
Desk-based research by the team established seven potential named burials in the church in addition to Richard III.
Of these seven, Ellen Luenor was the only woman.
She is thought to have been the wife of Gilbert Luenor, another possible founder and benefactor of the friary, and she would have been buried in about 1250.