Holiday firm Bowen Travel Group enters administration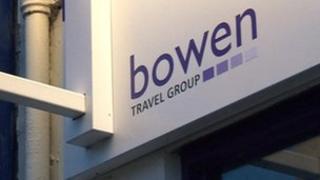 Almost 400 jobs have been lost after Leicestershire coach firm Bowen went into administration.
Loughborough-based Bowen Travel Group was unable to pay its staff, said administrator Deloitte.
A total of 393 workers have been made redundant immediately with 55 staff staying on to "fulfil remaining operations".
Bowen Travel Group, which incorporates six holiday firms, has 38 branches and a fleet of 132 coaches.
Deloitte said customers with bookings would be contacted.
Letters to customers
Matt Cowlishaw from Deloitte said Bowen had been affected by the "depressed leisure sector".
He added: "We are working closely with Bonded Coach Holidays to assist impacted customers, ensuring they are all fully aware of the situation and next steps.
"Customers will receive a letter during the coming days providing information and advice for claiming for unfulfilled holidays.
"We are also seeking an alternative coach operator to fulfil forthcoming trips and ensure the absolute minimal disruption for holidaymakers."
The group is made up of Bowen Travel Limited, LF Bowen Limited - trading under Bowens, Applebys, and Yorks & Jeffs Coaches Limited, York (Bros) Northampton Limited, Bowen Travel Transport Limited and Woottens Luxury Travel Limited.