Cracked Leicester church spire 'could collapse'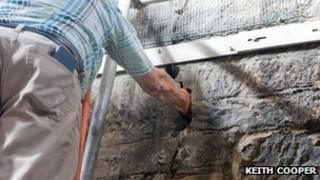 Church leaders have warned the spire of one of Leicester's oldest churches could collapse unless £500,000 is raised for repairs.
Several large cracks have appeared in brickwork at the 900-year-old St Mary de Castro Church, on Castle View.
The spire has been reinforced with steel bands but experts say a more extensive repair is needed, involving more than 500 stones being replaced.
Fundraising plans include asking people to "sponsor a stone".