Suspended Leicestershire police officer killed by train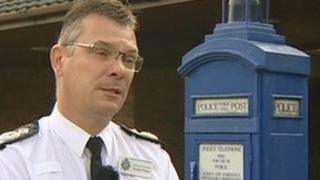 A senior Leicestershire police officer who had recently been suspended from the force has been struck and killed by a train.
Police said Assistant Chief Constable Gordon Fraser died on Friday. His death is not being treated as suspicious.
Mr Fraser, 49, and his wife Teresa appeared in court in July charged with perverting the course of justice over a speeding incident in Scotland.
Mr Fraser and his wife were due to appear in court on Monday.
Leicestershire Police said Mr Fraser was struck on the railway line at Aston Magna, Moreton-in-Marsh.
It is understood the couple claimed she was the driver of a speeding car in Scotland in September 2011, when it was alleged her husband was actually at the wheel.
Speaking after the charges were brought, chief Crown prosecutor for Thames and Chiltern Crown Prosecution Service, Baljit Ubhey, said: "The essence of the charge is that Mr Fraser, having allegedly committed a speeding offence, falsely informed the investigating authorities that Mrs Fraser had been the driver of the vehicle in question, and she falsely accepted responsibility for the speeding offence."
Earlier this year a spokesman from West Midlands Police confirmed Mrs Fraser, also a serving police officer, had been suspended from duty pending the outcome of court proceedings.
Mr Fraser had been suspended from duty since December 2010, pending a separate investigation being carried out by Merseyside Police.
They confirmed earlier this year that they were investigating Mr Fraser in connection with allegations of misconduct and fraud.
Leicestershire Police said they were deeply shocked and saddened and their thoughts were with his family and friends.
It also said Mr Fraser had been offered welfare support during his suspension.
British Transport Police said it was investigating the circumstances surrounding the incident and would be preparing a report for the coroner.