Men armed with handgun rob Leicester bank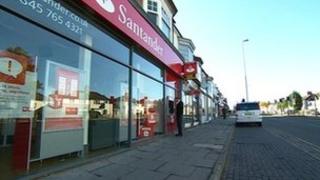 Two men armed with what police believe was a handgun have robbed a Leicester bank.
Officers were called to the Narborough Road branch of Santander at about midday on Saturday.
The two men threatened a cashier with a gun before running off along Danvers Road. It is not yet known how much money they stole.
Leicestershire Police said the area would have been "teeming with people" and urged witnesses to contact them.
One of the men was wearing a grey hooded top and grey trousers. The other wore a black tracksuit with red stripes down each leg.
Busy Saturday
Det Sgt John Farndon said: "Narborough Road on a Saturday lunchtime is teeming with people.
"The student community is back for the new term and the local community will always take advantage of a nice, sunny Saturday to get out and about with their families or do a Saturday shop.
"We're particularly keen to know if you saw them after they made their escape, did you see them, did you see them get into a car or van?"
He added that although the incident was not being linked to any other robberies, officers were "keeping an open mind".