Glenfield heart surgery e-petition exceeds target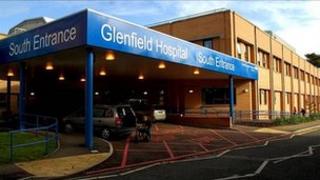 An e-petition aimed at trying to save a children's heart surgery unit in Leicester has exceeded the target it needs to secure a parliamentary debate.
Children's heart surgery services are to be relocated from Glenfield Hospital to Birmingham Children's Hospital as part of a national reorganisation.
In September the government ordered an initial review of the decision.
Online petitions need at least 100,000 signatures to trigger a debate in the House of Commons.
The Joint Committee of Primary Care Trusts (JCPCT) said in July the East Midlands Congenital Heart Centre at Glenfield should be one of three to close nationally.
It said the hospital would continue to diagnose young heart patients and provide non-surgical treatment but surgery would move to Birmingham, nearly 40 miles away.
The JCPCT, which also decided to close child heart units at Leeds General Infirmary and London's Royal Brompton Hospital, said creating fewer but larger surgical centres would improve the service.
Leicester's NHS trust said in August it would not be taking legal action over the decision to relocate children's surgery.
Councils in Leicester, Leicestershire and Rutland wrote to Health Secretary Jeremy Hunt in September opposing the move.
The e-petition opposing the move was set up by Adam Tansey from heart charity, Keep The Beat.
His son Albert, who was born with half a heart, had open heart surgery when he was only seven days old and has received ongoing treatment at Glenfield Hospital.