Belvoir Street night closure 'could be permanent'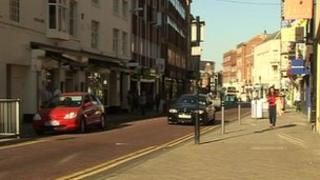 Police and bar owners in Leicester city centre have said closing a busy street to traffic on weekends has been a success.
Belvoir Street has a large number of bars and clubs and there were concerns for the safety of revellers.
The road was shut to vehicles from 22:00 BST until 04:00 BST on Friday and Saturday nights for five weeks.
Businesses and police said this had improved the area and they would look at making the arrangement permanent.
Assistant manager of Chilli White bar and chairman of Gateway Business Association, Dominic Ghigi, said the difference was noticeable: "The trial has shown that by having less traffic on the street, people are more relaxed.
"There have been no altercations in the street, people have their own space, it's just a more relaxed, stylish atmosphere."
Electronic bollards
Police said the trial had also led to a cut in public order incidents, from 14 in the month before the closure to five during it.
Ch Insp Adam Streets said: "All the feedback we have had from the business association, from the licensees, from the door staff and police had been really, really positive.
"Extending the trial is not just a decision we can take on our own, we have to engage with the city council and business association.
"It's also not a road we can close permanently, so we will have to look at solutions like electronic bollards or manning the road with security staff."