Memorial held for Leicester suffragette Alice Hawkins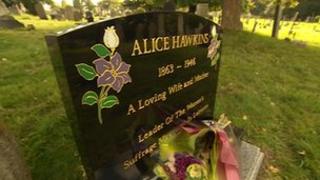 A memorial service has been held for a Leicestershire suffragette who was jailed five times during her campaign to win the vote for women in England.
Alice Hawkins died in 1946 but was buried in an unmarked pauper's grave.
Her family and friends attended a memorial service at Welford Road Cemetery in Leicester.
"It is a time to celebrate her life - she was an inspiration to others and she fought for justice for all," Reverend Mandy Ford said.
Mrs Hawkins, a mother of six who worked as a shoe machinist, was born in 1863 and died at age 83.
She joined the Women's Social and Political Union (WSPU) and spoke at factory gates, market squares and village greens in Leicestershire and Northamptonshire about rights for women.
She was jailed five times and spent time in Leicester and Holloway jails.
Her great-grandson, Peter Barratt, said the whole family was "immensely proud" of her actions.