Thurnby Lodge Islamic centre protest in Leicester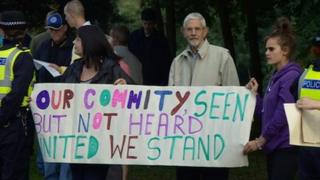 A protest attended by about 100 people has been held at Leicester City Hall opposing a move to lease an empty Scout hut to a Muslim group.
A 1,500-name petition opposing the move was also given to the city council.
Mayor Sir Peter Soulsby met the group and assured them all views were being considered and a final proposal had not been drawn up.
The authority is considering handing over the hut at Thurnby Lodge to the Muslim group As-Salaam.
Drug advice
The protesters want the disused property to be developed for use by the wider community.
Eight demonstrations have been held since they started at the end of July.
Organisers said they were not anti-Islamic but they were upset with the city council.
The As-Salaam Trust has said its community centre aimed to provide food sharing services, drug and alcohol advice and education to make community life better for everyone.
Protesters predicted that the community centre would cause traffic problems, but the As-Salaam Trust said many users would walk to the facility.