Leicester kebab shop fire 'not meant to kill'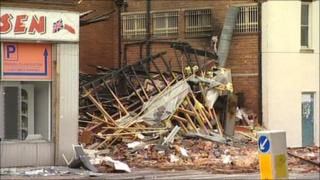 A man and woman accused of helping to start a fire at a kebab shop in which another man died have said they did not think anyone would be killed.
The body of 40-year-old Fiaz Ahmed Ansari was found in rubble of Kams King of the Grill, almost 15 hours after the explosion on 29 August 2011.
Shahbaz Khan, from Harrow, and Mehwish Yasin, from Birmingham, told police they thought only a small fire would be lit for an insurance claim.
They both deny manslaughter and arson.
'Fire everywhere'
Leicester Crown Court heard Shahbaz Khan, 25, had acted as a look-out and had no financial interest in the business.
In a statement to police he described hearing a "roar and explosion" and seeing "fire everywhere".
He did not think anyone would be killed and said the loss of his friend Fiaz was devastating.
Ms Yasin, 25, said she had driven Mr Khan and Mr Ansari to the kebab shop - she also thought the plan was to start a small fire.
The court also heard from a forensics expert who said up to 17 litres of petrol could have been used - a lighter was found near the body.
The court was told while there was no evidence to show gas pipes had been tampered with - gas was more likely to make the explosion happen.
The case continues.