Glenfield Hospital heart unit move protest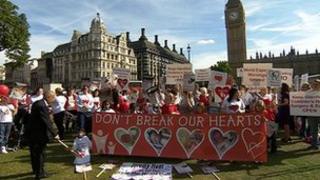 A protest against plans to stop children's heart surgery at Leicester's Glenfield Hospital has taken place outside parliament.
In July, an NHS review said surgery at the heart unit should cease in order for resources to be concentrated in other centres.
More than 100 people have protested outside the House of Commons, calling for the decision to be reversed.
They fear the changes will mean life-saving expertise would be lost.
The centre currently treats children from all over England.
It conducts about 230 operations on children and 70 on adults each year and has the UK's largest ECMO unit (a form of partial cardiopulmonary bypass) which oxygenates the blood of critically ill patients.
Campaigner Mick Whitely, from Lincolnshire, said: "The place is amazing. The staff, doctors, surgeons and nurses are just amazing.
"Together they have a set of skills that cannot be replicated anywhere else and the care they provide is second to none and without that we would not be where we are with our son."
In July, the Joint Committee of Primary Care Trusts (JCPCT) said the East Midlands Congenital Heart Centre should be one of three to close nationally.
The Glenfield unit is to stop surgery for children but will remain open to diagnose patients and for monitoring and non-surgical treatment.
The JCPCT said it wanted to improve services by creating fewer but larger surgical centres, and said expertise would be retained in the Midlands "through joint planning by Glenfield Hospital and Birmingham Children's Hospital."
Last week, new Health Secretary Jeremy Hunt asked an independent panel to review the decision.