Richard III dig: Events mark possible discovery of lost king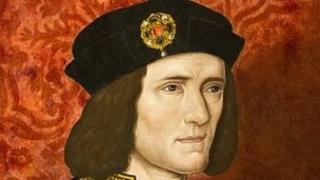 Events are under way in Leicester to mark the discovery of human remains by archaeologists searching for the Plantagenet king, Richard III.
Visitors can see the dig site at Greyfriars, as well as objects found there on display in the Guildhall.
There will also be a number of guided tours around key sites associated with the English king.
Mayor Peter Soulsby said it was a chance to see the city as Richard would have known it.
He said: "There has been a huge amount of interest in this dig and the discoveries have really helped stir the public imagination."
The skeleton, found under the Greyfriars car park, has spinal abnormalities and a cleaved-in skull, that suggest it could be Richard III.
The University of Leicester is now testing the bones for DNA against descendants of Richard's family.