Glenfield Hospital heart surgery move: Government asks for 'initial' review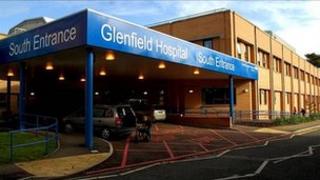 The government has ordered an initial review of a decision to relocate children's heart surgery from Leicester's Glenfield Hospital to Birmingham.
Health Secretary Jeremy Hunt announced he will ask an independent panel to look at the decision made in July.
Councils in Leicester, Leicestershire and Rutland wrote to Mr Hunt earlier this month opposing the move.
An NHS review found that surgery should stop at three units nationally.
The review said surgical expertise was spread too thinly around the country and some centres needed to close.
Mr Hunt asked the panel to do an initial review and report back to him no later than 21 September.
'Larger surgical centres'
Leicester City councillor Michael Cooke said: "We wanted our case to be considered alongside a referral that had already been made by Lincolnshire Council, and this will now happen."
Mr Cooke said a petition opposing the move had attracted more than 68,000 signatures.
The Glenfield unit is to stop surgery for children but will remain open to diagnose patients and for monitoring and non-surgical treatment.
The Joint Committee of Primary Care Trusts (JCPCT) said it wanted to improve services by creating fewer but larger surgical centres.
The committee added expertise would be retained in the Midlands "through joint planning by Glenfield Hospital and Birmingham Children's Hospital".