Welby farm shooting: Second wounded man admits burglary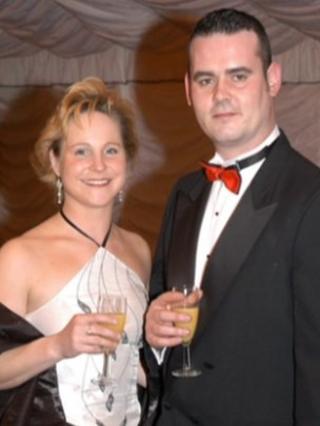 A second man has admitted being involved in a burglary at a Leicestershire farmhouse during which two intruders were shot.
Joshua O'Gorman, 33, appeared in court via videolink with a scar from a gunshot wound clearly visible on the right-hand side of his face.
Daniel Mansell, 33, who was also wounded, admitted burglary last week.
The men, both from Leicester, are both in custody and will be sentenced at Leicester Crown Court on 25 September.
Andy and Tracey Ferrie were arrested after shooting the burglars at their farm in Welby, Leicestershire.
They had gone to bed at about 22:15 BST on 1 September and were woken hours later by banging and the sound of breaking glass.
However, the Crown Prosecution Service advised Leicestershire Police that they should be released from their bail.
Judith Walker, Chief Crown Prosecutor for the East Midlands, said she was satisfied the couple acted in reasonable self-defence and should not face criminal charges.
O'Gorman's hearing at Loughborough Magistrates' Court heard that he was still on licence when he committed the burglary, having been jailed for 14 months last year at Leicester Crown Court for dangerous driving.
He has 16 previous convictions for 27 offences, including for a non-dwelling house burglary in 2002.
Two other men arrested following the incident, a 31-year-old and a 23-year-old, have been bailed pending further inquiries.