Leicester gypsy and traveller site petition debated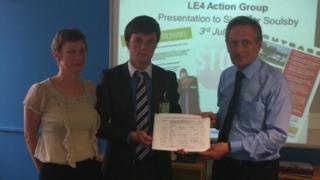 A petition has been put forward against the location of three proposed gypsy and traveller sites in Leicester.
Leicester City Council has identified Greengate Lane, Beaumont Way and Red Hill Way as potential sites for new pitches.
More than 3,800 people signed a petition gathered by action group LE4, which was debated at a full council meeting.
Campaigners have been told they will now receive a written response.
Terry McGreal, a member of LE4, said he accepts the council needs to find spaces for gypsies and travellers, but said the chosen locations are inappropriate.
"Throughout our activities we have stressed that we are not campaigning against the gypsies and travellers themselves but the fact that these camps are proposed to be concentrated in one area of the city within a two mile radius of each other," he said.
'Outside city boundary'
Mr McGreal said the proposals will also affect people living outside the city, because the sites are close to the county boundary.
"Two of the sites are virtually on the border with Charnwood," he said.
"They impact a lot more on county residents than they will on the vast majority of city residents."
A consultation on the plans was extended because of opposition, and ended in July.
Petitions with 1,500 signatures of people who live, work or study in Leicester have to be debated at a full council meeting.
A petition with more than 2,600 signatures was put forward in July, but this was rejected because the majority of people lived outside the city boundary.
"We objected on the basis that there was an impact on people outside of the city, and they [the council] said they would consider our petition," said Mr McGreal.
A Leicester City Council spokesperson said that following the debate on Thursday night, the council's executive would now consider the issues.
"The Executive will use all of this information in order to make a decision on the possibility of developing new authorised sites," the said.
"This decision is expected in October."