Richard III dig: Archaeologists 'tantalisingly close'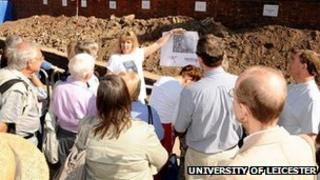 The search for the grave of Richard III under a Leicester car park is "tantalisingly close" to its goal, officials have said.
Richard was killed at the nearby battle of Bosworth in 1485 and is believed to have been buried in Greyfriars church.
Archaeologists from the University of Leicester have found traces of this building and have now gained permission to extend the dig.
Originally scheduled for two weeks, it will now run for at least three.
Documents traced by the team show Richard was buried in the choir of the church.
Trenches across the car park uncovered walls which are now confirmed as being part of the church - but not exactly which part.
Richard Buckley, co-director of University of Leicester Archaeological Services, said: "We are now tantalisingly close in our search and will investigate the choir where Richard is presumed to be buried.
"Whether we find Richard or not, this dig has been a huge success in terms of revealing the heritage of Leicester and I am proud that the University of Leicester has played a pivotal role in the telling of that story."
Philippa Langley from the Richard III Society said: "If we can make the right estimate of where we are in the church, that is what we have to do now, we have to go for it.
"We have been given this week extension, we could possibly get another, so it's game on."
On Saturday more than 1,500 people queued to see the site during an open day.