Thurnby Lodge Islamic centre protests cost £180k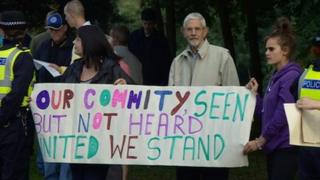 At least £180,000 has been spent policing protests against an Islamic charity's plans to turn a former scout hut into a community centre.
The protesters want the disused property in Thurnby Lodge, Leicester, to be developed for use by the wider community.
Seven protests have been held since they started at the end of July.
British National Party leader Nick Griffin appeared at one of the protests, which are held every Friday.
Leicestershire Police said about £180,000 had been spent policing the demonstrations up until the end of August.
'Not anti-Islamic'
Of this, £140,000 had been spent on wages for officers, who would have been on duty normally but working elsewhere in the county.
Demonstrators speaking to BBC Radio Leicester reporters have said they are concerned about the lack of facilities in the area associated with the development.
They have said their protests are not anti-Islamic but aimed at Leicester City Council, which agreed to lease the hut to the As-Salaam Trust.
Allan Gratrix, a voluntary community worker in Thurnby Lodge, who is also a former councillor, said policing costs will increase if the situation is not resolved soon.
"I think the city council should listen to the protesters, and also to our MP, Keith Vaz, who wrote to the city mayor in early March to say that the whole community should be able to use this building, rather than it to be used as a place of worship," he said.
The city council said it is looking at all options available before any agreements are made.
The As-Salaam Trust has said its community centre aimed to provide food sharing services, drug and alcohol advice and education to make community life better for everyone.
Protesters predicted that the community centre would cause traffic problems, but the As-Salaam Trust said many users would walk to the facility.