Glenfield heart surgery e-petition 'slowed'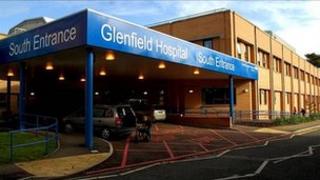 The number of people signing an e-petition to save a children's heart surgery unit in Leicester has slowed, according to the man who set it up.
Adam Tansey said: "When we first set the petition up we were getting up to 360 signatures an hour. But we knew that couldn't last."
Services are set to be relocated from Glenfield Hospital to Birmingham.
If the petition reaches 100,000 by mid-September, the matter can be debated in the House of Commons.
Mr Tansey, whose son Albert had heart surgery at the Leicester hospital, said: "People generally don't pay attention until it effects them. And I was like that before it effected me.
"People linked to Glenfield, families and friends have all signed. It's now up to members of the public to do it themselves."
On Friday the Leicester, Leicestershire and Rutland Joint Health and Overview Scrutiny Committee said it had sent a document to Secretary of State for Health Jeremy Hunt to appeal against moving children's heart surgery services.
The accompanying letter to Mr Hunt said: "The considerable public support for Glenfield Unit during the original consultation and the support since the decision of the JCPCT (Joint Committee of Primary Care Trusts), including an online petition in excess of 60,000 signatures, is testament to the concern of residents."
In August Leicester's NHS trust announced it had decided not to take legal action against the decision to stop children's heart surgery at Glenfield.
Larger surgical centres
It said it had concluded there were no realistic grounds for a judicial review after consulting with a barrister.
The JCPCT said in July that the East Midlands Congenital Heart Centre at Glenfield should be one of three to close nationally.
It said the hospital would continue to diagnose young heart patients and provide non-surgical treatment but surgery would move to Birmingham Children's Hospital.
The JCPCT, which also decided to close child heart units at Leeds General Infirmary and London's Royal Brompton Hospital, said creating fewer but larger surgical centres would improve the service.