Richard III: Leicester archaeologists may extend grave hunt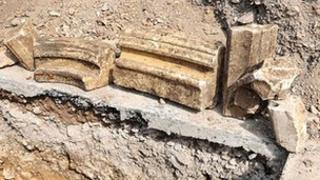 Archaeologists hunting King Richard III's lost grave say the dig could be extended if they believe a breakthrough is close.
Richard III was killed by the forces of the future Henry VII at the Battle of Bosworth in Leicestershire in 1485.
Historians traced his burial to a long-demolished friary in Leicester, which archaeologists have now located.
The dig is due to finish on Friday but more work could be done if the team feel a major discovery is likely.
Richard III, who is popularly remembered as one of Shakespeare's most notorious villains, was the last of the medieval Plantagenet kings.
The Greyfriars friary where he is thought to have been buried was demolished in the 16th Century and is now under a city centre car park.
New plans
An excavation, led by Richard Buckley from the University of Leicester, began two weeks ago.
He said: "We have found the church, but Franciscan churches can be up to 60 metres long, so we have had to work out where we are in the building.
"Recent finds include pieces of a very large window, which could indicate we are near the eastern end of the church.
"The eastern end holds the choir, which is where the records say Richard was buried."
He added: "If we feel we are close, we might extend the dig.
"We have to consider live services like power cables and sewers and of course surrounding properties but it could happen."
An open day will be held at the site, opposite Leicester Cathedral, from 11:00 BST on Saturday.