Welby farm shooting: Alan Duncan praises no prosecution decision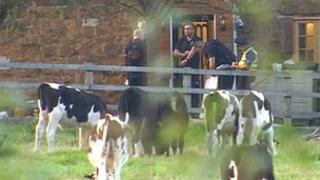 The decision not to press charges against a couple who used a gun to defend their home during a break-in has been welcomed by their MP.
Rutland and Melton MP Alan Duncan said he was delighted the Crown Prosecution Service had decided not take criminal action against Andy and Tracey Ferrie.
The Welby couple were arrested on Sunday on suspicion of causing grievous bodily harm after a shotgun was fired.
They were released on police bail on Tuesday.
Couple 'exonerated'
Prosecutors said Mr and Mrs Ferrie had acted in reasonable self-defence during the incident and would not face charges.
Judith Walker, Chief Crown Prosecutor for the East Midlands, said: "Looking at the evidence, it is clear to me that Mr and Mrs Ferrie did what they believed was necessary to protect themselves, and their home, from intruders."
Mr Duncan said the real crime would have been if the couple were prosecuted for defending their home.
After the announcement, he said: "I stuck my neck out in defence of my constituents on Monday.
"I'm delighted the CPS has seen sense and has exonerated them. The law has worked and so has the system.
"The focus must be on the burglars and not the victims. My constituents can hold their heads high."
Ms Walker said: "I am satisfied that this is a case where householders, faced with intruders in frightening circumstances, acted in reasonable self-defence.
"The law is clear that anyone who acts in good faith, using reasonable force, doing what they honestly feel is necessary to protect themselves, their families or their property, will not be prosecuted for such action."
Hospital arrest
A Leicestershire Police statement said: "This decision has been made as swiftly as possible following a detailed inquiry, forensic investigation of the scene, input from ballistics experts and extensive interviews with all parties involved."
The announcement came after two men appeared at Loughborough Magistrates' Court charged with burglary.
Daniel Mansell, 33, from Leicester, pleaded guilty to the offence and was remanded in custody to be sentenced at Leicester Crown Court on 25 September.
Joshua O'Gorman, 27, who is also charged with burglary, gave no plea and was remanded in custody to reappear before magistrates on 14 September.
The court heard that Mr Ferrie, 35, and his 43-year-old wife were woken late on Saturday night by banging and the sound of breaking glass.
Mansell was injured inside the property and arrested later at hospital in Leicester.