Welby farm shooting: Couple will not face charges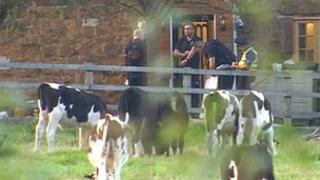 A couple who were arrested after a shotgun was fired at intruders during a break-in will not face charges, the Crown Prosecution Service has said.
Andy and Tracey Ferrie were arrested on Sunday at their farm in Welby, Leicestershire, after telling police they had fired the legally-held weapon.
The couple were arrested on suspicion of causing grievous bodily harm.
The CPS said it had made the decision not to take action against the pair after an official visited their home.
On Tuesday Mr and Mrs Ferrie were released on bail as police announced that two men had been charged with burgling the property near Melton Mowbray.
Judith Walker, Chief Crown Prosecutor for the East Midlands, said: "I am satisfied that this is a case where householders, faced with intruders in frightening circumstances, acted in reasonable self-defence.
"The law is clear that anyone who acts in good faith, using reasonable force, doing what they honestly feel is necessary to protect themselves, their families or their property, will not be prosecuted for such action.
"We have therefore advised Leicestershire Police that Mr and Mrs Ferrie should be released from their bail as they will not face any charges over what happened."
Earlier, Daniel Mansell, 33, from Leicester, pleaded guilty to burglary at Loughborough Magistrates' Court and is due to be sentenced on 25 September.