Richard III dig: Walls may be lost medieval church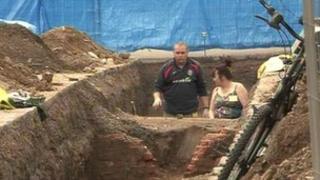 The discovery of medieval walls shows a search for the lost grave of Richard III is "on the right track", archaeologists have said.
Richard's body was brought to Leicester after his death in battle in 1485 but the grave's location was lost.
A University of Leicester team started digging in a city car park last week after research pinpointed the area.
Now the team has discovered walls they believe could come from the Franciscan friary where he was buried.
Richard III had been king for only two years when he was killed by the forces of Henry Tudor at the Battle of Bosworth.
DNA tests
He was buried in the church of Greyfriars but this was demolished during the reign of Henry VIII in the 1530s.
Although as late as 1612 some locals claimed to know the exact site of the grave, the fate of his bones is unclear.
The archaeologists have now found thick walls, along with pieces of stone window frame and the the remains of tiled floors.
Richard Buckley, of the University of Leicester Archaeology Service, said the discoveries, along with the good state of preservation, had left the team "fired up".
"The dimensions of the walls and the association with certain building materials and tiled floors suggests we are looking at a religious house and a high status medieval building.
"One of the walls in particular is getting on for two metres thick and it's on an east-west orientation, so as far as we can tell, and its still early days yet, it might be one of the walls of the Greyfriars church and if that is the case, we are on the right track."
A new trench is to be opened up to confirm the building is a church and possibly close in on the grave.
If a body is found, its DNA will be tested against living descendants of Richard III.