Dog 'sniffed out cancer' in her owner's breast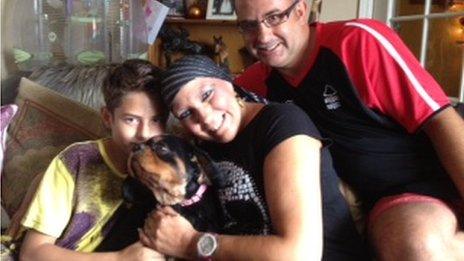 A woman discovered she had a cancerous tumour in her breast after her dog started sniffing and pawing at it.
Sharon Rawlinson ignored her Cavalier King Charles Spaniel for months, but went for tests after Penny stepped on her chest, causing pain.
Mrs Rawlinson, from Newark, then examined herself and found a lump.
Penny was a surprise Christmas present which her husband almost did not buy, because he said his wife was not allowed to have another dog.
Mrs Rawlinson said 18-month-old Penny was her guardian angel.
"I can't explain how she knew. I just can't get my head around it," she said.
Penny began her unusual behaviour in November, and stepped on her owner's chest in January.
Mrs Rawlinson went to her GP and then Nottingham City Hospital for tests, and Penny continued to paw her while she waited for the results.
Mrs Rawlinson began chemotherapy in March and went into hospital for an operation to remove the tumour this week.
"As soon as I started chemotherapy she's not gone near the breast since," Mrs Rawlinson said.
Her husband Brian said the dog was "amazing".
"There's a long, long way to go but at least we've got half a chance," he said.
"If we had left it for any longer, because the tumour was already 33mm, I think we would have had problems."
Martin Ledwick, head information nurse at Cancer Research UK, said: "A few anecdotal cases have suggested that dogs may sometimes be aware that their owner has cancer.
"No reliable research has given a scientific explanation of how this could work."
Related Internet Links
The BBC is not responsible for the content of external sites.