Listed Friars Mill in Leicester guarded after fire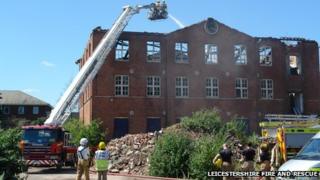 A Grade-II listed former factory which was severely damaged in a fire will now be guarded 24 hours a day.
Leicester city mayor Peter Soulsby said Friars Mill is of "enormous historical and architectural importance" and the council wants to protect its future.
Firefighters have been unable to conclude whether the fire on Sunday was started deliberately or accidentally.
Adrian Ablett, a community volunteer, had previously complained about people trespassing on the site.
Known locally as the Donisthorpe factory, Mr Ablett said Leicester City Council should have done more to secure it.
Mr Soulsby said: "The council has made attempts to secure this privately owned building, including bricking up ground floor openings and installing a security fence around the site, but I am very angry to hear that vandals have still gained access.
"Friars Mill is of enormous historical and architectural importance to the city, and I am not prepared to see it be destroyed.
"I have therefore instructed officers to put in a 24-hour security presence, and I intend to use all of the council's powers to prevent further vandalism and to protect its future."
Police investigation
Several members of the public raised the alarm after about 22:45 BST on Sunday and firefighters continued to fight the fire for more than 12 hours.
Police are investigating the fire and anyone with information is asked to contact them.
The site, thought to be the city's first factory, had become increasingly derelict after a planned development stalled.
It is on the market for sale and the council has been working with the vendors to get a developer to take it on and restore the buildings as part of a wider regeneration scheme.
Mr Ablett, who collects cans for recycling and is known locally as the Canman, has repeatedly complained about people fly-tipping on the site next to the River Soar.
Both he and Leicestershire Industrial History Society feared there would be a major fire.
Steve Smith, investigating officer for Leicestershire Fire and Rescue Service, said it could have been started deliberately or accidentally.
"We could not discount it being accidentally started at this stage as there was evidence of cooking and smoking materials on the site," he said.
"However, the extent of the damage has made it impossible to excavate the site and therefore determine whether the fire was started deliberately."