Senior police officer faces speeding 'deception' charge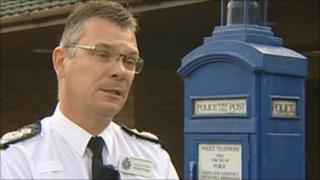 A senior Leicestershire Police officer and his wife have been charged with conspiracy to pervert the course of justice over a speeding offence.
Assistant Chief Constable Gordon Fraser, 48, and his wife Teresa, 42, also a serving officer, will appear at St Albans Magistrates' Court on Friday.
It is alleged that Mrs Fraser accepted responsibility for a speeding offence committed by her husband.
The offence is alleged to have happened in Strathclyde on 29 September 2011.
'Falsely informed'
Hertfordshire Police investigated the couple and forwarded a file on to the Crown Prosecution Service (CPS).
It said: "A criminal complaint was made alleging that Mrs Fraser had accepted responsibility for a speeding offence allegedly committed by Mr Fraser on 29 September, 2011, in Strathclyde.
"The essence of the charge is that Mr Fraser, having allegedly committed a speeding offence, falsely informed the investigating authorities that Mrs Fraser had been the driver of the vehicle in question, and she falsely accepted responsibility for the speeding offence."
Gordon Fraser worked in the West Midlands Police force for 22 years before moving to Leicestershire in 2010.
Leicestershire Police confirmed that he had been suspended from duty regarding a separate matter.
West Midlands Police confirmed Mrs Fraser was a serving officer and had been suspended from duty.
The force said it would "await the outcome of court proceedings before considering whether there has been a breach of the standards of professional behaviour".