Torch relay: Lucas Hayward spreads Changing Faces message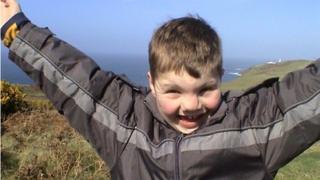 An Olympic torchbearer is returning to the primary school where he was severely bullied over his facial disfigurement.
Lucas Hayward, 15, carried the flame through part of Leicester on day 46 of the torch relay.
He was nominated largely because of his work for the charity Changing Faces.
He is returning to St Luke's Primary School in Thurnby later to talk to the pupils about bullying and achieving their aspirations.
"It was such an honour to be part of such an amazing, massive event," he said after his turn with the torch.
"I also thought it was a really good opportunity for me to spread the word about the charity work I've done with Changing Faces."
Lucas, who lives in Thurnby in Leicestershire, was born with oculo-auriculo-fronto-nasal syndrome (OAFNS) and has undergone numerous operations.
"That means my nose is wider than most people's and I had tags on the left side of my face," he said.
'Absolutely horrible'
"I would be called things like elephant nose, flat nose, ugly, pig nose."
The bullying was also physical.
"I got punched and kicked and I was spat on," he added. "My glasses were broken, things like that.
"It was absolutely horrible but that was when Changing Faces came in. They helped me with the transition from my primary to my secondary school."
Lucas now helps the charity which helped him, and has featured in a poster campaign on the London Underground as part of his work.
His visit to the school later will be the first time he has been back properly since being bullied.
"I don't think about it all the time but I do remember what happened to me there," he said.
"When I go there it will be about helping children to be better, to not bully, and to know they can reach something as special as the Olympic torch."