Leicester Belgrave Health Centre management overhaul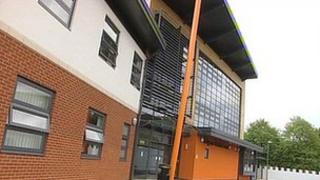 A surgery in Leicester which has only one full time GP is to be taken over next year.
The £5m Belgrave Health Centre on Brandon Street was opened in 2011 and was meant to cater for 5,000 people.
NHS Leicester City chose a private company, The Practice PLC, to run the surgery but it has struggled to retain permanent staff.
It has now agreed to give up the tender in December and NHS bosses said a new provider would be chosen.
Opened as a "one-stop" facility for health care, the Belgrave Health Centre took patients from various other practices in the area.
Procurement process
But complaints have been made that it took too long to be seen by a GP and it was staffed by locums.
Local health campaigner Zuffur Haq said: "There is no shortage of GPs out there looking to run a practice, it is just about paying them the right money to work in these kind of areas.
"Its not good seeing a different doctor each time you go, you have to go through your case history every single time, it has not been good service."
Lesley Harrison, from the Leicester, Leicestershire and Rutland PCT Cluster, said suitable staffing would be at the heart of the new arrangements.
"That will be part of our procurement process, we will be asking those questions.
"It will be part of the criteria we use to ensure the practice is staffed by GPs".
The Practice PLC declined to add to the PCT's statement.
Other healthcare services based in Belgrave Health Centre are not affected.