Cow spray painted with QR Code to promote dairy farming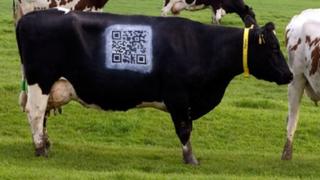 A Leicestershire dairy cow with a digital QR Code spray-painted on its side is being used to promote the UK dairy industry.
The barcode on the side of Friesian cow Lady Shamrock, which can be scanned by phone, links directly to a blog of her daily routine.
"We had this wacky idea to put a code on one of our cows," farmer Jane Barnes, of Somerby, said.
Lady Shamrock's milk is used to make the local Stilton cheese.
"When people are walking on our farm… they can get their iPhone and zap the cow in question," Mrs Barnes said.
The barcode links to the This Is Dairy Farming website which features a blog by Lady Shamrock and the challenges facing dairy farming.
"It looks like a puzzle - like a barcode on food items," Mrs Barnes said.
The QR, or quick response code, is an internet address condensed into a code that allows quick access to websites.
"We used a can of white spray paint that is animal user friendly, so it is not going to harm her in any way, and sprayed it on using a stencil," the farmer said.
"There are so few of us in the country now, less than 11,000 dairy farmers in England and Wales. People don't really know what we do or how we produce milk."
Mrs Barnes and her husband run a 120-cow farm that sends all of its milk to local dairies to produce Stilton cheese.
"We are worried that the succession of farmers' sons taking up dairy farming has dropped dramatically in my lifetime. It has dropped from 76,000 dairy farmers in the 1960s to about 11,000 now.
"If we don't look after our dairy farmers… we are not going to be able to see dairy cows grazing in our beautiful English countryside and we are going to be reliant on imported milk."