Former lord mayor 'broke rules' over parking tickets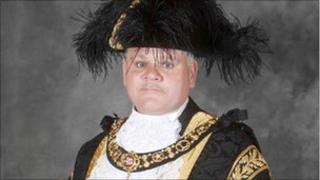 The former lord mayor of Leicester breached the council's code of conduct in getting several parking tickets written off, a hearing has found.
Rob Wann, a Labour councillor, was found guilty by the authority's standards committee of three breaches of the city council's guidelines.
The committee's chairman said he would have considered suspending Mr Wann if it was within his powers to do so.
Mr Wann said he would be appealing against the verdict.
The hearing followed an investigation into four parking tickets given to Mr Wann between 2007 and 2011 which were subsequently written off by senior parking officers.
It also looked at two parking exemption permits given to the politician, who held the role of lord mayor from May 2011 to May 2012.
The committee concluded Mr Wann "compromised the impartiality of those that work for the council" by contacting the officers.
'Undermined confidence'
It found him guilty of "using his position to improperly secure himself an advantage" by applying for exemption permits he was not entitled to.
The committee added that Mr Wann's actions "undermined public confidence in the authority's ability to fairly enforce parking rules".
Committee chairman Jonathan Goolden said: "Had suspension been available as a sanction, the committee would have given active consideration to that, but having regard to the range of sanctions available and that Councillor Wann's actions were assisted by senior officers of the council, the committee has decided to censure the councillor."
Mr Wann, who did not attend the hearing as he is away on holiday, said he was confident he would be found innocent on appeal.
He said: "Had I been given the opportunity to attend the hearing, I think the outcome would have been completely different.
"I have the option of appeal and I want to put my case forward."