Leicestershire council leader David Parsons 'broke conduct code'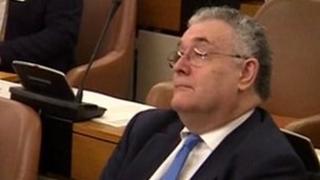 The leader of Leicestershire County Council, David Parsons, broke the councillors code of conduct over his expenses, a committee has decided.
The authority's standards committee has backed a report into money claimed for official trips to Brussels.
It found he did not promptly repay expenses initially covered by a publicly-funded body called East Midlands Councils (EMC).
Mr Parsons said he was "embarrassed and ashamed" by his actions.
He also apologised to the committee and said he took full responsibility for his behaviour.
Position 'untenable'
His solicitor said that Mr Parsons was a busy man who took little attention as to the detail of his own financial matters.
The committee will now decide what action to take and has the power to censure the council leader.
Any possible further punishment is up to the ruling Conservative group.
Liberal Democrat councillor Dr Sarah Hill said: "Clearly Mr Parsons has to accept that his position as leader is now completely untenable, and the Conservative group, and the wider Conservative party, need to face up to their responsibilities to force Mr Parsons out.
"Many Conservative councillors have talked about 'innocent till proven guilty' and today's meeting has produced more than enough evidence of guilt."
Four breaches
The Conservative group has not yet commented.
EMC initially paid for the trips to Brussels, the independent report said, but the cost was then reimbursed by the European Union.
The report found more than £2,000 was not then repaid to EMC on time.
This, it said, amounted to four breaches of the code of conduct including not bringing an office or authority into disrepute.
In April Mr Parsons survived a vote of no confidence related to a separate row over his use of the council's chauffeur driven car to attend Tory events.