Sarah Outen rescued in North Pacific after boat damaged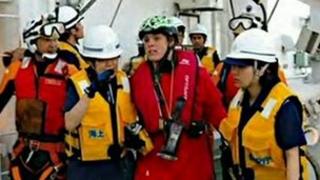 British adventurer Sarah Outen has been rescued after a severe storm forced her to abandon her solo row across the North Pacific Ocean.
The Rutland explorer, bidding to become the first woman to row from Japan to Canada, was rescued by the coastguard.
Her boat, Gulliver, was damaged by high waves during a tropical storm.
Another British rower, Charlie Martell, of Cirencester, Gloucestershire, also abandoned his solo Pacific journey when he was hit by the same storm.
'Frightening conditions'
"While on her solo row across the North Pacific Ocean, Sarah has been hit by the Tropical Storm Mawar and her boat, Gulliver, has rolled on several occasions," a post on Ms Outen's website said.
"The team has however spoken to Sarah and she is safe and doing well."
Ms Outen, 26, said on a podcast from the boat: "Gulliver took a real beating at the hands of the tropical storm. It was much stronger than we had originally thought.
"These are the roughest and most frightening conditions I have ever been in.
"The coastguard has been wonderful and very supportive."
Territorial Army lieutenant Martell, 41, made his distress call when winds of up to 50 knots and waves of more than 50ft (15m) caused his boat to capsize several times, damaging the vessel.
A spokesman for Lt Martell said he had been at sea for 34 days and was about 700 miles (1,100 km) from Japan when the storm damaged his boat.
His website reported that his boat, Blossom, had encountered strong winds and heavy seas, causing it to repeatedly capsize.
"She then pitch-poled (flipped end over end), causing structural damage and leaving Charlie no choice but to abort the voyage and call for assistance," the website said.
He is expected to be rescued by the Japanese coastguard at about 02:00 BST on Saturday.
Ms Outen's 4,500-mile (7,250km) record attempt was part of a 20,000-mile (32,000km) around-the-world solo expedition.
She said earlier on her Twitter feed that the cargo ship Texas Highway was "sat close by watching us until the Coast Guard arrives - reassuring".
She also said she would have to abandon her boat as it was "too rough" to take it back to Japan.
Ms Outen was about 500 miles off the coast of Japan and had been at sea for 24 days when she made an emergency call to the Japanese coastguard.
Her team said she remained in "good spirits" during her ordeal.
She had been hoping to become the first woman to row solo from Choshi to Vancouver. The journey could have taken up to 200 days.
Her team said it was premature to conclude what it would mean for the adventurer's solo row bid.
Ms Outen has been following a route across land and sea since April 2011, travelling only by kayak, bicycle and rowing boat during her "London2London: via the World" solo expedition.
She arrived in Japan in November after cycling more than 10,000 miles through 10 countries and rowing 1,000 miles to Tokyo.