Second Rutland Water osprey chick hatches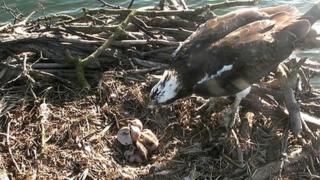 Managers and visitors at Rutland Water Nature Reserve have been celebrating the arrival of a second osprey chick.
The first bird of prey chick hatched on Friday and the second on Sunday in the Manton Bay nest.
Tim Mackrill, a Rutland Osprey project officer, said there was a difference in size between the two chicks.
He added that they have attracted "quite an audience" on the website since a camera was set up to film the nest and the new arrivals.
'Supply of fish'
Mr Mackrill, from the Leicestershire and Rutland Wildlife Trust, said: "Although the second chick is still very weak, it has already had a few tiny morsels of food which will help it to get stronger through the day.
"There is a noticeable size difference between the two chicks, but the new arrival shouldn't take long to catch up if the male continues with his almost constant supply of fish."
He added the young ospreys would remain in the nest for about two months before making their first flights in mid-July.
A team of over 160 volunteers have helped to monitor the nests during a five-and-a-half week incubation period.
One volunteer Helen Hall, who regularly made an 85-mile round-trip from Warwickshire for a weekly Sunday night-shift, said: "Seeing chicks hatching in the nests makes all the hard work worthwhile."
Live images of the Manton Bay nest are streamed onto the reserve's website and shown at the Lyndon Visitor Centre.
"Although we have had a camera on the nest before, the new high-definition images are stunning and have given us an incredible insight into the first few hours of the young osprey's life," Mr Mackrill said.
Michelle Househam, assistant project officer, said: "People have been logging on to the website from all over the world and have been just as delighted as us to see the chicks."